A difference of $10 give or take.
In 2018: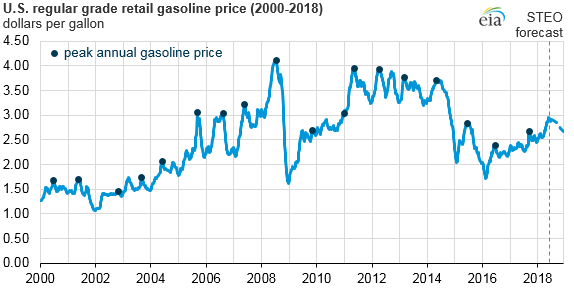 U.S. regular-grade retail gasoline prices averaged $2.89 per gallon (gal) in June, down from a high of $2.96/gal on May 28. EIA estimates that gasoline prices will remain lower than the May 28 price for the rest of the summer, reaching $2.84/gal in September. Gasoline prices are often higher in summer months when gasoline demand is higher and when federal and state environmental regulations require the use of summer-grade gasoline, which is more expensive to manufacture. Following the summer, EIA expects gasoline prices to decline to $2.68/gal by December.
Today gas prices:
U.S. regular gasoline retail prices averaged $4.11 per gallon (gal) in the first half of 2022 (1H22), up from $2.78/gal in 1H21. We forecast gasoline prices will average $4.05/gal in 2022 and $3.57/gal in 2023. U.S. diesel prices averaged $4.91/gal in 1H22, up from $3.06/gal in 1H21. We forecast diesel prices will average $4.73/gal in 2022 and $4.07/gal in 2023.
https://www.eia.gov/outlooks/steo/
and...
Conoco sweetens shareholder returns by $5 billion as profit jumps
Aug 4 (Reuters) - ConocoPhillips (COP.N) on Thursday raised its shareholder payout target by 50% after the largest U.S. independent oil producer beat Wall Street's earnings estimates on surging energy prices.
Conoco this year will devote $15 billion of cash from operations to shareholder returns, up from $10 billion originally set, it said, joining a parade of big energy companies using the price surge to reward investors.
https://www.reuters.com/business/energy ... 022-08-04/
and...
Exxon, Chevron post blowout earnings, oil majors bet on buybacks
The U.S. pair, along with UK-based Shell (SHEL.L) and France's TotalEnergies (TTEF.PA), combined to earn nearly $51 billion in the most recent quarter, almost double what the group brought in for the year-ago period.
Exxon outpaced its rivals with a $17.9 billion quarterly profit, the most for any international oil major in history.
High crude oil prices can cut into margins for integrated oil majors, as they also bear the cost of crude used for refined products. However, following Russia's invasion of Ukraine and numerous shutdowns of refineries worldwide in the wake of the coronavirus pandemic, refining margins exploded in the second quarter, outpacing the gains in crude and adding to earnings.
Earlier this month, Britain passed a 25% windfall tax on oil and gas producers in the North Sea. U.S. lawmakers have discussed a similar idea, though it faces long odds in Congress
https://www.reuters.com/business/energy ... 022-07-29/
Because...
U.S. oil rig count falls by the most since September, Baker Hughes says
Aug 5 (Reuters) - U.S. energy firms this week cut the number of oil rigs by the most since September as production grows incrementally because energy firms are boosting shareholder returns and facing higher operating costs due to inflationary and supply chain pressures.
The number of oil rigs, an early indicator of future output, fell seven to 598 in the week to Aug. 5, the first weekly decline in 10 weeks, energy services firm Baker Hughes Co (BKR.O) said in its closely followed report on Friday. , ,
But with oil prices up about 19% so far this year after soaring 55% in 2021 - and pressure from the government to produce more - a growing number of energy firms said they plan to boost spending for a second year in a row in 2022 after cutting drilling and completion expenditures in 2019 and 2020.
U.S. financial services firm Cowen & Co said the independent exploration and production (E&P) companies it tracks plan to boost spending by about 35% in 2022 versus 2021 after increasing spending about 4% in 2021 versus 2020.
https://www.reuters.com/business/energy ... 022-08-05/
+++ $3 a gallon in time for November? That's a little tight time wise. Richmond Va $3.60